Unleash Prosperity Hotline
Issue #205
Erasing 1776
In Yesterday's Hotline, we reported on the impressive, just-released report of Trump's 1776 Commission. We posted the White House link to the report so people could access it. We got many angry notes from readers that our link wasn't working. It turns out one of the first official acts of Joe Biden – you know, the new president who is calling for "unity" – was to take down the report from the White House web page.
How low is that?
The purpose of the 1776 Commission was to re-educate Americans about the founding of our country, the birth of freedom, one of the greatest achievements in human history. As we reported yesterday, CNN sneered that it was a "racist" recounting of history.
Our friend Mike Gonzalez of the Heritage Foundation was a member of that Commission and here is his brief analysis of what happened:
"One of Biden's first acts was for his White House to take down the report issued Monday by the 1776 Commission, and on his first day as president, to disband the commission.
Is that really the priority? As one of the commissioners, Is the baying from the woke left so furious that dissolving a commission named after our nation's founding, and deleting a report calling for teaching objective history, makes the top of the list?
Our new president wants to demonstrate his bona fides to the creators of the 1619 Project [a wacked out New York Times invention that slavery is what built America] and their hard-left allies."
Here is a new link to the report. Send it to your kids, your friends, your colleagues. We need to fight back against the left's erasure of history. We worry they are just getting started.
Why, Oh Why, Do Any States Still Lockdown?
CTUP has been showing you this CDC data now updated each month for almost nine months. The very latest data continue to show that strict lockdown states have about double the death rates of states with no lockdowns. There isn't any relationship one way or the other for all the other states. Over time the states have been slowly converging. If the lockdowns had any positive impact, you would expect this chart to be the other way around.
3) Yet The American Enterprise Institute Endorses a Militant Lockdown
It turns out it isn't only liberal Democratic governors in America who favor lockdowns. Now our friends at the American Enterprise Institute have published a paper that effectively endorses shutting down the U.S. economy.
The study concludes: "the optimal policy for the United States is to follow the lead of many European countries and introduce a nation-wide lockdown." This "should last between two and four weeks and will generate a net benefit of up to $1.2 trillion."
There is much here that is dead wrong and dangerous. It is based on the false premise that lockdowns work. They do not. That's true across states (see above) and international studies show only a small positive or no effect of lockdowns. As for the European model: the virus is out of control in the Eurozone.
The author of the study, Anna Scherbina, an economist at Brandeis, writes: "The costs of a lockdown are felt in the form of inconveniences and lost wages while the benefits from the reduced number of illnesses and deaths come in the future."
INCONVENIENCES???
We have cited scores of studies showing the extremely negative effects of lockdowns: increased suicide, mental illness, severe depression, loneliness and isolation, drug abuse, child and spousal abuse, lost schooling, business bankruptcies. These costs are mostly borne by kids and young adults. We've argued that lockdowns have a net cost many times higher than benefits and by many trillions of dollars.
AEI's researchers disregard the most important cost of all: lost freedom. Lockdowns are one of the great abuses of governmental power in modern American history.
AEI has consistently defended lockdowns as "necessary and effective." They are just the opposite.
China's Communist Government on Trump's Departure: Whoopee!
Love or hate Trump, history books should record that he was the first president to label China as the existential threat to American economic and national security.
So it's not surprising they are thrilled to see him replaced by Joe Biden. China's official state news agency had this reaction (since removed) to Donald Trump's departure from office on Wednesday. Will President Biden prove that fears he is soft on China are unfounded?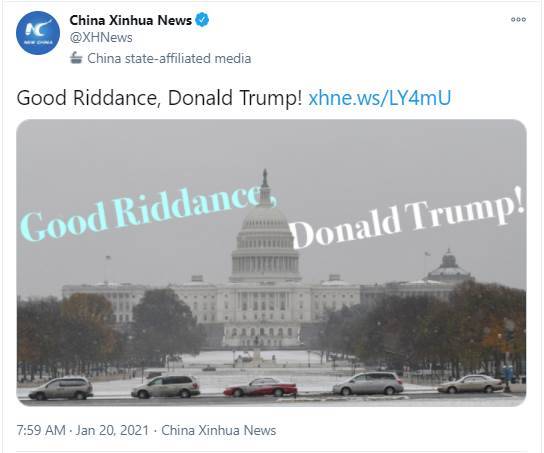 Biden's Executive Order Blitz
Just how much of the Democratic agenda will pass Congress and actually wind up on President Biden's desk for signature? With extremely narrow Democratic majorities in Congress, it appears Biden isn't taking any chances and is finding imaginative new ways to govern through executive orders.
The Hill newspaper reports Biden will issue 53 executive orders or actions over the next 10 days. During the same time period in his first year, President Trump issued less than a dozen.
Biden's list is too long to print here (see link), but the new rules span the policy spectrum from a continued moratorium on student loan payments, to establishing a policing commission, to rejoining the Paris climate accord, and canceling the Keystone XL pipeline.
Biden will also pause all pending regulatory reforms that aren't completely final claiming that they "unnecessarily hamstrung" federal action.
Overall, Biden is on track to exceed the record of all previous presidents on using executive action.
"Stroke of the pen, law of the Land. Kinda cool" — that's how Paul Begala, a top aide to former President Bill Clinton, once referred to the temptation for a president to use executive orders.
Makes us wonder why we still bother with having a Congress.
Florida Leads on Vaccinating Seniors
Yesterday Florida pulled ahead of West Virginia among the states that report the number of vaccinations among seniors; over 16% of Floridians age 65 or over have now had at least one dose of vaccine. That's remarkable considering Florida has 4.5 million seniors. More than 80% of all COVID deaths are among seniors, so the DeSantis "seniors first" strategy is the best way to save lives.
We now have 24 states in our tracker. If you see age-stratified vaccination data for any state we're missing, please send us the link!
This Isn't Violence You Are Looking At
The New York Times published a piece on Sunday in which it accused Republicans of explaining away the storming of the U.S. Capitol by "drawing false equivalence with last summer's racial protests." National political reporter Astead Herndon went on to say "Republicans saw the Capitol attack as the work of outsiders or as justified by the summer's isolated incidents of looting and property destruction."
Andrew Sullivan, a noted liberal columnist and opponent of Donald Trump, was outraged at NYT's framing of the issue. "Last summer was just 'isolated instances of property destruction.' That's how the NYT describes $1 – 2 billion of damage this summer…" Sullivan tweeted.
We and most Republicans have condemned the summer riots by crazy leftist groups and the storming of the U.S. Capitol by crazy right-wing groups. Democrats and the media too often tout left-wing rioters as "social justice warriors."
Not a Parody
"I now have an inkling of how the French must have felt when Allied troops liberated Paris in August 1944. Things were terrible; there was wreckage all around, and yet a sense of optimism must have been pervasive."
Alan S. Blinder, professor at Princeton University, Wall Street Journal, yesterday on the departure of Donald Trump and the inauguration of Joe Biden
Uh-huh. If this is "liberation" why is half the country in mourning?
Are we there yet?
Know anyone else who would appreciate the Hotline? Please direct them to subscribe at: https://committeetounleashprosperity.com/hotline/
Have an idea for an item that should be in our newsletter? Send us any charts, statistics, heroes/villains, or humor that you'd like to see featured!